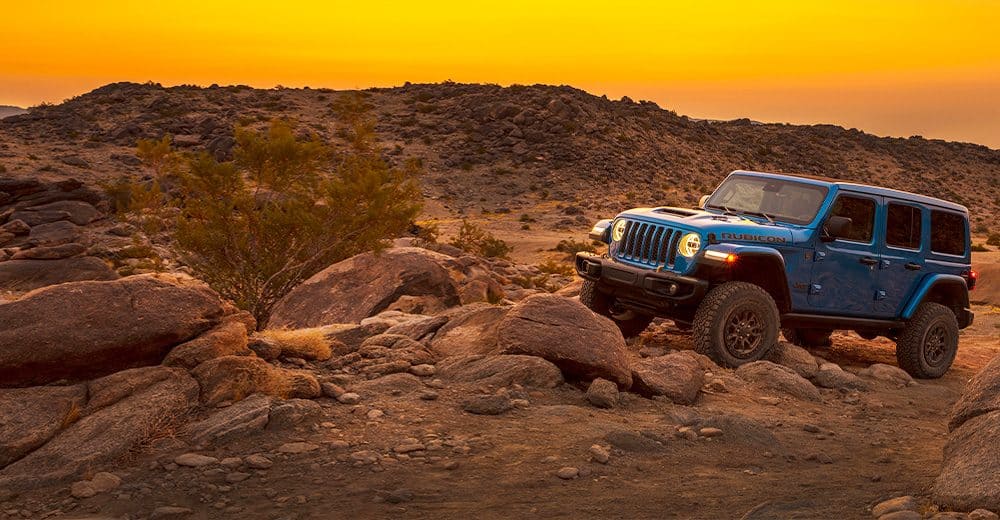 2021 Jeep Wrangler Rubicon 392
Brought to you by Gillman CDJR
Jeep has never once held back, especially when it comes to giving their customers exactly what they have been waiting for. That's why it should be no surprise that Jeep has just introduced us all to the 2021 Jeep Wrangler Rubicon 392. This is an SUV that makes sure that you still have off-roading capabilities, but now, you are getting the most capable Wrangler thanks to a V8 engine that can produce 470 horsepower. Our goal today is to bring you all of the latest information on this SUV. We want you to have the information you need to decide if this is the vehicle of your dreams. We have a feeling we already know the answer to that, but still, it never hurts to learn a little more about a vehicle like the Rubicon 392. Keep reading down below to learn more.
Find out more about the Rubicon 392 engine
Obviously, the big star of the show here is the Wrangler's engine. That's because the engine, which is a 6.4-liter V8, is actually 392 cubic inches, which is where this new model gets its name from. This is the very first time in around 40 years that this engine is available with the Wrangler. You'll be able to get 470 pound-feet of torque and 470 horsepower. Many different aspects of this engine lend to this much capability. A large part of the performance aspect is the fact that around 75% of the peak torque is available when you are just around idle speed. This means you can handle crawling up steep grades, or even going from 0 to 60 mph in just 4.5 seconds. Another major component is the addition of Fuel Saver Technology. This allows you to save on gas whenever possible. We also want to mention active dual-mode exhaust and a functional hood scoop.
How can the Rubicon 392 handle off-roading?
Well, to put it simply, this Wrangler owns all off-roading adventures. Every single one of these models comes with Selec-Trac full-time, which includes an active transfer case. You'll find four driver-selectable modes which allows you to better customize every single drive. These modes include 4WD High, 4WD Auto, 4WD Low, and Neutral. You even get features like Off-road Plus with Sand and Rock modes, which adds extra traction control and more transmission shift points. You might also be interested in learning about Selec-Speed Control, which manages the vehicle speed whenever you're traversing off-road terrain, without needing brake or throttle input. 
What are some of the design cues?
Even after figuring out all of the power and off-roading capabilities, the Rubicon 392 even has its own specific style available. Most of this comes from the addition of Bronze detailing that really makes this Wrangler stand out from the rest of the lineup. You'll especially love the Rubicon decal at the front, the bronze stitching with the interior leather-appointments, and a brand new gauge cluster design. Some specific features that you'll find include body-color flares, remote proximity entry, HD electrical switch bank, Safety Group, a leather interior, and an LED Lighting Group.
2021 Jeep Wrangler Rubicon 392 at Gillman CDJR
As you can tell by now, the Rubicon 392 is really changing the game. Never has this much power been available with the Wrangler, which means that off-roading has really moved to the forefront, along with overall performance. We hope you'll stop by our dealership so you can get a better look at what we have to offer when it comes to the Wrangler!