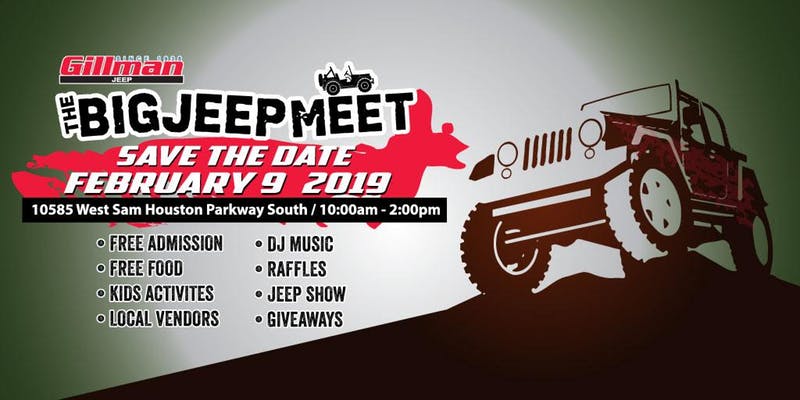 At Gillman Chrysler Jeep® Dodge RAM, we know that driving a Jeep model is a special experience. You won't get it until you've driven one, which is why Jeep drivers can form such a tight community. We're celebrating that solidarity next month with the Big Jeep Meet, the first of many events celebrating these innovative vehicles and their drivers!
At the Big Jeep Meet, local drivers can get together to show off their Jeep SUVs and crossovers, while getting to know each other a little better. From soft tops to entry guards, floor liners to hood latches, Jeep drivers have an extra ounce of appreciation for the fine features and accessories offered by the Jeep brand. Drivers will get to enjoy free food while checking out a wide variety of cool Jeep models. There will be giveaways and cool Jeep gear on display as well. Whether you're driving a classic vehicle or just bought yourself a 2019 Jeep Wrangler, feel free to drop by.
If you're worried about keeping the kids entertained or needing a babysitter, don't be! We'll even have activities set up for kids. The Big Jeep Meet can be a fun time for the entire family!
The Big Jeep Meet will take place on February 9th, from 12 to two in the afternoon. Just visit our dealership at 10585 West Sam Houston Parkway South between those times and join us for the festivities!
There's also a Facebook event that you can RSVP to and share with your fellow Jeep brand enthusiasts. We've also set up an Eventbrite link so that you can tell us if you're coming. Keep an eye on this blog for the latest updates about this meet up and future events at our dealership.
So celebrate with us next month at our Jeep dealership near Houston. Whether you've been driving Jeep vehicles for years or you just picked up a 2019 model, all enthusiasts are welcome. We hope to see you there!