Selling your vehicle should be painless, and that's what we at Gillman Chrysler Jeep Dodge aim to do. Instead of putting ads out online or in the paper, simply follow the steps below and get a reliable quote for your vehicle from our Houston, TX  car dealership quick! You can then use this money towards a brand new SUV or Sedan! For any questions about this process just contact Gillman Chrysler Jeep Dodge online or stop by today.


See what the Gillman Guy has to say about selling your car to Gillman!
What is Your Car Worth?
Hours
Monday

09:00AM - 06:00PM

Tuesday

09:00AM - 06:00PM

Wednesday

09:00AM - 06:00PM

Thursday

09:00AM - 06:00PM

Friday

09:00AM - 06:00PM

Saturday

09:00AM - 06:00PM

Sunday

Closed
Our Process

Submit your trade-in request online
You will receive an instant quote plus:
free appraisal via email+
commitment to purchase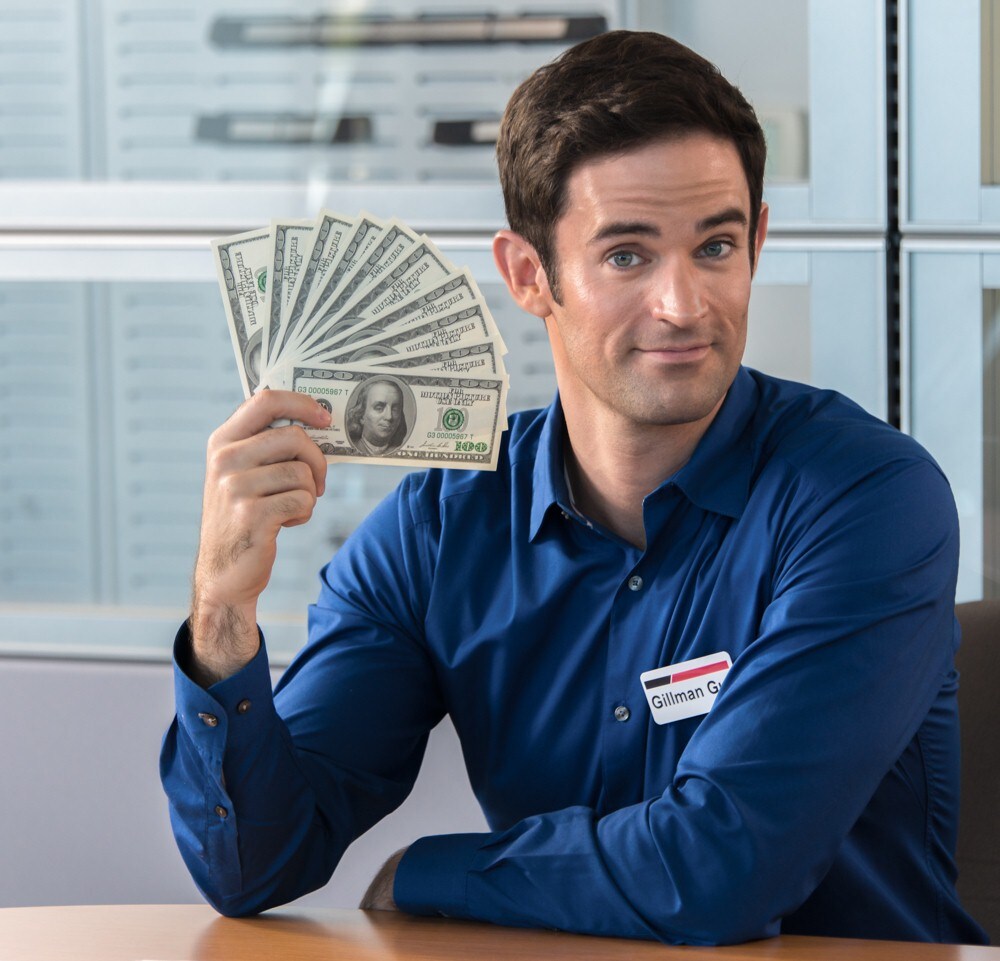 Why sell to Gillman?

-We'll buy your car, even if you don't buy from us
-We'll purchase any make or model
-The process can take as little as 30 mins
-We can handle the loan pay off, if needed
-No advertising fees, time wasted, or meeting with strangers

What do our trained appraisers look for in evaluating your vehicle?

    1.  Specific Vehicle condition such as: interior and exterior condition, year, Make, Model, & Mileage
    2.  Overall Market Conditions such as: National Sales Trends, Market and Economic, Auction data
    3.  Market Resources such as: NADA, Black Book, Manheim Market Report, Auto Exchange, CarFax vehicle history report

+Documents are valid for seven days and/or 200 miles, so you can consider the offer without pressure. When you visit the dealership, you can meet with the appraiser and get a detail explanation of how your car is being evaluated throughout the process.  Email appraisal offer is based on information provided by customer.  Value may be adjusted based on on-sight inspection of vehicle. Gillman will purchase your vehicle for fair market value after a physical appraisal.  We will base fair market value on a combination of NADA, Black Book, Manheim Market Report, Auto Exchange, CarFax vehicle history report and actual physical condition.  Offer is valid for 7 days and/ or 200 miles of the date/mileage shown on the offer.  Vehicles value may be affected by mechanical condition, CarFax report, frame-damage, lemon law buyback, Odometer roll back, salvage, flood or branded title.

Once you're reviewed your appraisal and you decide to take the offer, visit your nearest Gillman location for the next steps to sell us your car.  Selling your car shouldn't be a hassle so here are the next steps for an easy, stress-free transaction. 

What to bring with you? Your car's title or pay-off information- all title holders should plan to be present, a valid vehicle registration, valid Photo ID, and keys and remotes.  Once you decide to take the offer, we will pay via issue a quick bank draft or wire transfer.